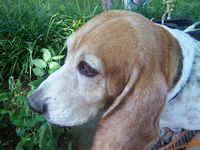 If at any time you have a problem with any aspect of your pets stay please allow us to problem solve the situation. Comments made in a public venue after the fact with no opportunity of resolution are unnecessarily Hurtful
1. Is my pet supervised over night?
We are on-site owners. In other words, We live on- site with our Kennel facilities. There is basically around the clock supervision for your pets. Other facilities will clock out at evening hours and not be back until the start of their next business day.
2. Will my pet be returned to me insect free?
If your pet comes to us insect free, it will be picked up insect free. Our facilities are all concrete, so they are easily maintained, both from unwanted insects and general cleanliness. We will eliminate any insects you feel were attracted during their stay. We guarantee it!
3. Do you administer Vaccinations?
No, we are not Licensed Veterinarians.
4. Will you administer medications?
Yes. Any medications that are neccessary to maintain the animal's health, we will administer during their stay. That is, of course, within reason. Please provide written instructions as to the schedule neccessary and a means in which to administer it (Eg., pill pockets, wieners, peanut butter, etc...). There is a $1.00 per day additional charge.
5. Is my pet let out of their run to play or go for a walk?
No. At the $19.00 rate, all pets stay inside the run unless they are boarded in the indoor facility. If extra walks and play times are your desire, you can purchase those through our Playtime Pals Program.
6. Is my pet ever placed in the run with other pets?
No. Each pet is kept in their own individual run, unless a multiple pet family requests their pets be kept together.
7. How often do you clean?
We clean the inside portion of the kennel constantly. Our first wash out of outdoor runs occurs between 7:00 & 10:00 a.m. depending on the temperature. Subsequent washouts are on an as needed basis.
8. Why is it so hard to contact you between noon and 4:00 in the afternoon?
We are always able to answer our phones in the mornings and during the afternoon pick up schedule. Between noon and 4:00 p.m., we are typically cleaning, performing chores, eating lunch etc...and most of the time not able to access the phone. Please leave us a message if you call during the early afternoon hours and we will return your call ASAP.
9. Why do you offer limited accessability to the kennel as operating hours?
After many years of experience observing animal behavor in a kennel setting, we have come to believe that if we limit exposure to the general public, the animals experience less stress and are able to rest more readily. Constant stimulation caused by frequent visitors keeps animals restless and uneasy. It is our hope that our customers see this as a positive policy rather than an inconvenience.
10. $32.00 a Night, WOOOW. What is so special about those high dollar Suites?
Many people do not like the look or feel of an indoor/outdoor kennel and much prefer a home-like environment. These rooms are just that. These rooms are just like your living room at home. They also come with a minimum of (3) - trips outdoors. Of course, these are for non-distructive indoor dogs only.
11. What about those after hour charges?
We do understand that occasionally, unavoidable circumstances do necessitate the need for after hours pickup or delivery. These occasions DO NOT include convenience related exceptions. Our fees are there to compensate us for and deter you from taking advantage of our established operating hours.
12. Do you do Day Care?
Yes we do, but only during our regular daily operating hours. That eliminates Wednesday and Saturday since we have no afternoon hours on those days.
13. Can I put all my pets in one run for one price, like $19.00 per night?
No, you will find that it is an industry standard to charge per animal not per run. We do although offer a 3 animal 10% discount and you do receive the 7th night free in the indoor / outdoor facility.